Miami has plenty of dive bars, but none of them rise to the level of Mac's Club Deuce which is world-famous for the bold-faced clientele who stop by every so often to sample the "high-life in low places" lifestyle.
In a town where rejection at the velvet rope is the norm, The Deuce will welcome you with open arms. You'll also find sassy-yet-friendly bartenders, a well-stocked jukebox, drinks strong enough to plaster you to the wall, and people from all over the world coming together in this locals bar.
The Deuce has been around since the 1920s, and was once used by the Miami Vice crew for location shooting. We wouldn't be surprised to see The Deuce in a future Quentin Tarantino film either.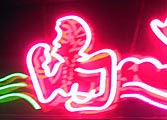 One of the Deuce's bartenders, Melissa Burley, has even published a 96 page edition of 450 Club Deuce photographs covering the last 13 years in hardcover. It comes sealed with a Deuce sticker, coaster, matchbook, and temporary tattoo for $40.
Check its reviews around the internet and you'll see why we highly recommend a night at Club Deuce.
Mac's Club Deuce is located at 222 14th Street, Miami Beach, Florida, 33139. Phone: 305.531.6200