Shortly after Fidel Castro gained control of Cuba in 1959, thousands of Cuban exiles came to America and in the process transformed a section of Downtown Miami into an area we now know as Little Havana.
The main area you'll want to visit is a 17-block strip located on S.W. Eighth Street known as Calle Ocho. Here you'll see cigars being hand-rolled, restaurants serving Cuban sandwiches and café con leche, drink fresh coconut and sugar cane juice, dance to Latin music and hear locals discussing politics of their former homeland.
Over time, the influx of artists and musicians into Little Havana have turned the area into an artistic enclave where Latin American cultures converge.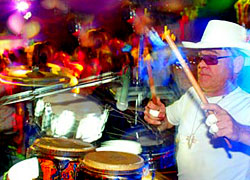 The Calle Ocho Walk of Fame (between 12th and 17th Avenues), you'll see the sidewalk of stars for top Latin celebrities like Celia Cruz, Gloria Estefan and Julio Iglesias.
Every March, as part of Carnaval Miami—the world's largest street festival, more than one million people attend an enormous street party known as the Calle Ocho Festival featuring music, dancing, and food from every corner of the Latin world.
Artists are especially attracted to Little Havana by relatively inexpensive rents. The artist community is showcased on Viernes Culturales (Cultural Fridays), an open-air art festival which takes place on the last Friday of every month along Calle Ocho.
Calle Ocho's tourist district exudes color with its bustling pedestrian life, and many popular cafeterias have outside service windows.
The architecture of Little Havana features a large collection of bungalows, which were a popular Miami style in the 1920s.
There are dozens of cigar shops along Calle Ocho, where you can see cigars being hand-rolled and bearing family-owned labels that date back to the 1930s.
One of the most photographed areas of Little Havana is Domino Park, also known as Maximo Gomez Park, named in honor of the Dominican-born general who was chief of the Cuban Liberation Army during the wars of independence against Spain. Cubans gather daily to play dominoes, drink Cuban coffee and reminisce about the old days in Cuba. Domino Park, the Tower Theater and the Latin Quarter Cultural Center converge at the intersection of Southwest Eighth Street and 15th Avenue to form the cultural Mecca of Calle Ocho.
The Tower Theater is host to many Cuban musicians and artists, and provides Cuban film, dance and theater performances.