In the heydey of 1930s Miami Beach, the Henry Hohauser designed Hotel Webster served as an Art Deco haven for chic snowbirds seeking refuge from the winter's chill in the heart of Collins Avenue. In the 1970's, faded aluminum folding chairs lined the sidewalks so retired seniors could spend their sunset hours watching life pass them by. Flash forward to SoBe circa 2010 and the Webster is reborn as a millionaire's refuge offering top name designer brands, nibbles of caviar and French champagne and providing a quiet rooftop refuge that's ideal for looking down upon the mere mortals who tread the streets of the city below.
The all new Webster features over 20,000 square feet of upscale retail fashion in the heart of the Deco District. While wealthy tourists once had to venture north to the Bal Harbour Shops to find Gucci, Pucci and Chanel, young fashionistas have discovered the riches inside the renovated landmark property where three luxurious levels are dedicated to men's and women's ready-to-wear, shoes, bags, jewels and watches. If guests feel parched by so many breathtaking choices, the 82 year old Parisian restaurant Caviar Kaspia opened it's first US branch at the Webster serving caviar, smoked salmon and champagne to quickly revive them.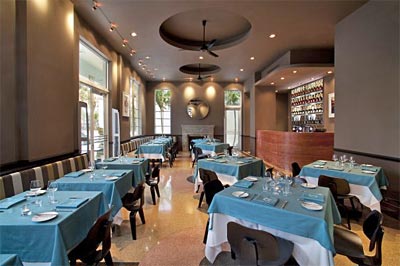 We visited this glorious temple of designer fashion to finish up our Christmas Wish List and started out at Caviar Kaspia  for the $30 Shopper's Lunch. A dashing waiter presented each of us with a flute of chilled champagne and offered a choice of grilled vegetable salad or creme of asparagus soup, followed by a healthy endive salad or decadent poached egg-topped croque mademoiselle and a lovely dish of fresh berries and cream for dessert. Business lunchers can pay an additional $5 to choose from an Alaskan crab meat gazpacho or the asparagus creme followed by smoked salmon linguini or roast duck magret and chocolate mousse. An a la carte menu is also available with the house signature dish - Potato "Au Caviar" - a high/low combination of a roast whole potato topped with chive creme and an ounce of caviar. Trust us - this is heaven on a plate!
Caviar at Kaspia is serious business with the humble farmed Oscietra, white sturgeon and French Baeri starting at $100-$200 an ounce to the wild Oscietra and Sevruga topping out at over $300. If you still have room on your AmEx after lunch, head up to the shop to browse through the carefully curated collection that includes Alaia, Balenciaga, Givenchy, Lanvin, Prada, Pucci and Yves Saint Laurent. We were so enchanted by the selection we neglected to remember all of the other naughty and nice friends we still have on our gift list!  From Maison Martin Margiela jewelry to Trussardi sunglasses to Bronzette bathing suits, it's clear that owners Milan Vukmirovic, Laure Heriard Dubreuil and Frederic Dechnik are targeting rich, tan, slim socialites when they stock the shop.
These chic boutique owners bring years of experience at top European fashion houses to the Webster and that pedigree shows at every turn. Milan Vukmirovic founded Colette, the world's most influential concept shop still at the top of must-see lists for Paris trend spotters. He worked with Tom Ford at Gucci before joining Jil Sander as Creative Director. Laure Heriard and Frederic Dechnik met at Yves Saint Laurent in Paris where she worked as a merchandiser for women's ready-to-wear and he ran the men's team. They work on the day to day operations at the Webster including the store operations and buying.
Venturing up through the store, guests ultimately discover the brand new roof deck, one of our favorite hidden treasures on South Beach. The Roof at the Webster offers views of the Art Deco skyline, cool white wicker furniture and a bar menu from Caviar Kaspia to nibble al fresco. Happy hour starts daily at 4pm with a Russian twist on Miami's favorite caipirinha that substitutes chilled vodka for the Brazilian cachaça and French beer 1664 at a post-shopping budget-friendly $8. The elegant rooftop lounge is opened until 1am for guests seeking a quiet refuge or shoppers who need a perfect hide out from credit card collection agents.
The Webster is located at 1220 Collins Avenue on South Beach.
The retail shop is opened Monday through Saturday from 11am-8pm and closes Sunday at 6pm.
Gospel Diva Maryel Epps performs at Sunday Brunch at Caviar Kaspia from 12:30-2:30 and the restaurant serves from 11am-4pm Sunday and Monday and to 11pm the rest of the week. Reservations suggested at 305-674-7899