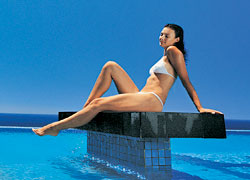 On Saturday, May 8, 2010, Luvmeyoga & Wellfitness, Inc. are joining forces for a one day yoga, wellness, fitness and relaxation retreat, at the luxurious Historic Bath Club, in Miami Beach.
Join them for a full day of Yoga, Beach Core Training, and Luxurious Treatments at the Bath Club's Resort and Spa! Enrich your body with vegetarian meals prepared especially for you by one of Miami's finest chefs.
The retreat includes:
o    a lecture and presentation on incorporating wellness principals into your life;
o    vegetarian breakfast and lunch (raw food available upon request, upon sign up);
o    morning beach yoga;
o    complimentary spa services, including;
o    massages
o    manicures/pedicures
o    Reiki healing, and
o    Bach Flower Essence consultation (by appointment, times available upon sign up);
o    afternoon core training on the beach;
o    Zumba and afternoon "Hour of Power" yoga; and
o    guided meditation and sunset yoga and beach healing. "One Luv with Luv Me Yoga, on May 8, 2010!" Register at www.wellfitnessinc.com, for more information call 305.775.0010
Luvmeyoga provides a full range of Yoga experiences from beginner through advanced at residential properties and resorts in Miami, Florida, while offering its clientele luxurious pampering, relaxation and access to holistic health and wellness experiences and information.
Wellfitness Inc. provides quality programs & services with superior personal training in and around Miami, FL/New York/Washington, DC area. Wellfitness, Inc. offers a number of services and amenities for one's comfort convenience & well-being. Their goal is to make each visit to their facility a pleasurable one.