With the art scene in Miami exploding, it's no surprise that so many art walks and gallery nights have come to life in South Florida. With galleries congregating close together where  rents are cheap, and weather that is nearly always perfect, South Florida was made for gallery walk events. A complete night of entertainment can be had in just a few blocks walk.
Gathered here is a look at the walks taking place in the Miami area. Some have been on-going for years, and some recently started. .
WYNWOOD
The Wynwood art walk started small, but has grown tremendously over the past few years. Once a very sketchy area of deserted warehouses centered around 25th Street and NW 2nd Avenue, it is now alive with the hustle of hundreds of art enthusiasts, music, performers, and a strong police presence. Originally on second Friday, it moved to Second Saturday to coincide with the Design District Art Walk, and the tradition in many other towns. Wynwood is the most "street" of the art neighborhoods, featuring contemporary and emerging artists, though not exclusively. Very energetic and exciting.
While there, be sure to stop by Harold Golen and David Castillo galleries. A few other notable galleries are Kevin Bruk, Praxis, and the MAC Art Group. At the north end, on 36th Street, you can see Damien B and Steinbaum, two of the oldest galleries in the area. While up there, stop in Lost and Found Saloon for a fresh, reasonably priced bite to eat, or head down to the main area for a nice upscale Italian dinner at Joey's. The after-party is usually at Electric Pickle or Vagabond, but keep an eye out for new options that may be popping up soon.
DESIGN DISTRICT
The other art walk on Second Saturdays is approximately fifteen blocks north in the upscale Design District. Though primarily interior design houses, there are also a few art galleries in the area. Most of these focus on art work that is good for your home, since they are in the area for design. A couple of the more popular galleries are Art Fusion and PressitOn. Art Fusion even hosts live music out front during the art walk. It is a wonderful way to spend an evening, sipping on complimentary wine, listening to good music, and enjoying the art.
For an excellent art walk meal, check out Michael's Genuine for some upscale fusion, or head over to the new Maitardi for a more relaxed, loungy atmosphere. A couple of new galleries that you do not want to miss just moved in to the Design District. Originally in Wynwood, Locust Projects and Spinello have found new homes on 38th Street. Locust is a non-profit installation space, while Spinello is one of the hottest up-and-coming gallerists in Miami.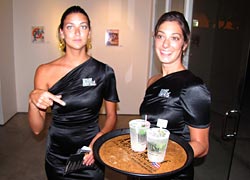 CORAL GABLES
The Coral Gables art walk takes place on first Friday and, during the season, hosts a nice festival in the Ponce circle. The festival has numerous vendors and exhibitors and a stage where local bands like Suenalo and Spam AllStars perform. There are fewer galleries here than some of the other areas, and they tend to boast higher end work. One of the most notable is Cernuda. Specializing in Cuban work, they have a wide selection of both newcomers and classic pieces.
Food is plentiful in the Gables, but one of our favorite hidden gems is just off the Ponce Circle called Mr. Chu's. A relatively new Taiwanese kitchen, it is actually staffed with old chefs imported direct from the homeland. And they do cook as if they were still in Taiwan. It may look a little sketchy inside but the food is extraordinary. I highly recommend the fried seaweed, totally addictive. It is also one of the few places in the area you can eat without emptying your wallet. Another favorite eatery is Fritz and Franz Beirhaus. Nothing goes with Cuban art better than a big bratwurst.
CALLE OCHO
Probably the largest of the art walks in terms of attendance, the Viernes Culturales (Cultural Fridays) is the last Friday of the month. Calle Ocho fills with people, music, dancing and art between 13th and 17th Avenue. They generally have two stages full of live music and plenty of people dancing. For new patrons, I recommend the walking tour hosted by Dr. Paul George. It leaves from the Tower Theater at 7:00pm.
Be sure to head to the south end of the walk to see the Renee Gallery, a quiet little island of peace in all the madness. For food, your choices are many, but the variety is somewhat limited. Our favorite place is Pizza a la Pala where we get the mixed grill, sit out on the sidewalk, and enjoy the live band or drum jam. If you want to go a little further up, there is Mr. Yum's Thai/sushi place around 19th Avenue.
NORTH MIAMI BY MOCA
The main feature of the North Miami art walk, which takes place the last Friday of the month, is the Jazz at MOCA. Featuring such acts as Mitch Frohman, Mike Levine, Diogo Brown, and The Spam Allstars, the concerts attract hundreds of fans who bring their blankets, chairs, dinners and wine to spread out on the plaza.
Nearby galleries include the Fache Arts & Amy Alonso Gallery, the Mario Flores Gallery, the CS Gallery, and several vintage and design shops. Eating in the area is rather limited, which is why many people bring their own picnics to the show. If you are not inclined to eat on the concrete, Luna Star Café and Cheeseburger Baby (the same folks as from South Beach) are two popular alternatives.
COCONUT GROVE
The Coconut Grove Art Stroll is a newer art walk set in one of the oldest art centers in America, dating back the 60s, when the Grove was a hippy playground. Centered around CocoWalk and the Shops at Mayfair, the stroll includes several galleries, plenty of shopping, and many eateries. Be sure to stop by Windisch-Hunt and Heart of the Grove as you enjoy the live music, dance performances, and other events that accompany the stroll each month.
There are a myriad of dining options in Coconut Grove, but for something reasonable and yummy, I suggest getting a little off the beaten path down to the end of Commodore to Havana Grove Latin Café. It isn't big or fancy, but it is very good. The Coconut Grove Art Stroll takes place the first Saturday of every month.
LINCOLN ROAD
The Lincoln Road Gallery Walk, put together primarily by ArtCenter/South Florida, is brand new event also on the first Saturday. Most of the artists at the co-op galleries are in-studio showcasing their work at 924, 810, and 800 Lincoln Road. Complimentary refreshments and wine are available in the studios. Live performances are also on the agenda.
Of course, there are dozens of places to eat along Lincoln Road, something for every palate. El Rancho Grande and Lucky Strike both feature great service and good food at good prices. While there, you can wander Lincoln Road and enjoy the spectacle that goes on there every night of the week.
DOWNTOWN HOLLYWOOD ART WALK
The downtown Hollywood art walk takes place the third Saturday of every month and features a dozen or so galleries and studios around Harrison Street and Young Circle. Plenty of eating options there and the best parking is the municipal garages at 20th Ave & Van Buren St or 19th Ave between Tyler & Polk St.
SUMMARY
The many art walks throughout Miami offer numerous chances to get out of the house and see some of the great work available in this city. Featuring art, performances, food and beverages, each one has its own unique ambience and reasons for attending. Your monthly calendar of art walks is as follows: Coral Gables - first Friday, Coconut Grove - first Saturday, Lincoln Road - first Saturday, Wynwood - second Saturday Design District - second Saturday, Hollywood - third Saturday, Calle Ocho - last Friday, North Miami - last Friday.
James Echols is the co-founder of Life is Art.